You can view productivity, activity and scoreboard reports anytime from the app to keep track of your performance.
Go to the Smart Menu icon present on the top right of your screen.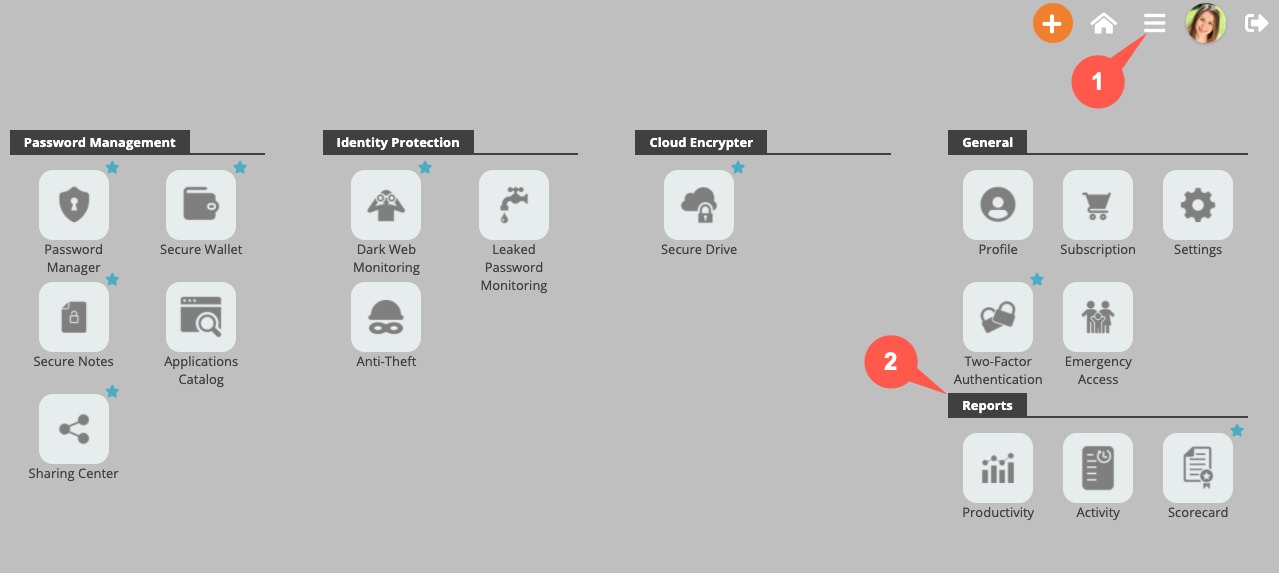 Under the Reports section, you will find the Productivity, Activity and Scorecard reports. Tap on the icon of the respective report you wish to view.
Productivity Report:
The productivity reports are designed to improve overall productivity and application access and usage. For example, the Apps you spend the most time on are reported, either in your main Internet browser or in all of your browsers. From the calendar icon present on the top right of each report icon (highlighted with a small red arrow in the picture below), you can select an option from Daily, Weekly, and Monthly, and verify activity and computer usage in the given timeframe.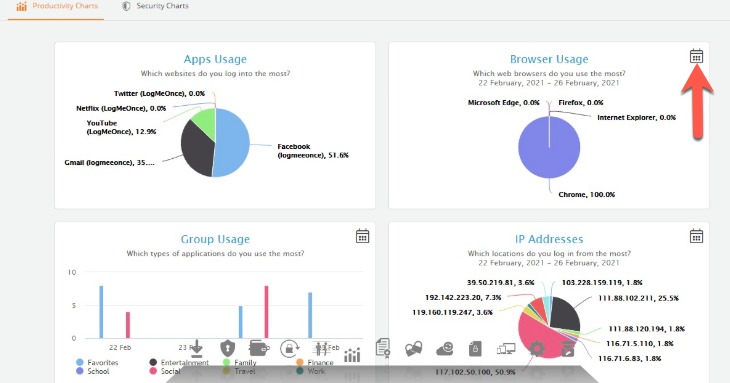 Activity Report:
The activity report enables you to view your activity over time on LogMeOnce. You have access to three distinct categories of search filters to narrow down your reports. "All events" sorts out groups such as Login, Logout, and Failed Login. For example, if you wish to know how many logins you have made during a particular day, week, or month, this is the filter you need to start with. You can further narrow down and find how many logins by using a specific browser, platform, or device. "Date created" narrows your results to a specific date range such as the past 24 hours, past week, or a custom date range.
After tapping the Search tools icon present on the top right (

highlighted with a small red arrow in the picture below

), three filter tools will appear below the search bar. You can filter the results accordingly.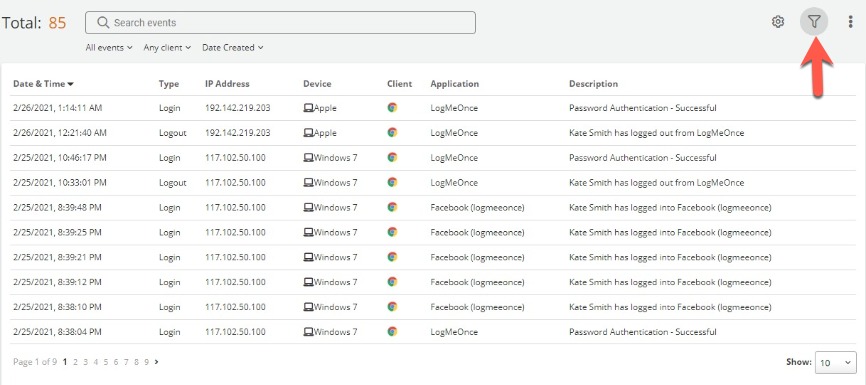 Security Scorecard:
LogMeOnce Security Scorecard gives you an overview of your overall security status. This section is additionally protected requiring double-authentication. Here, LogMeOnce offers a comprehensive number of login options with automatic 2FA. Choose a login method to access. Once authenticated, you can view four distinct reports, including Total Security Status, Hybrid Identity Score, Master Password Strength, and Overall Password Strength.

At the bottom of the page, you can view

a list of all your passwords, from weakest to strongest. Any duplicate passwords are also flagged here. You can also initiate an automatic password change.