You can add LogMeOnce to your other devices very easily. Simply follow the instruction below.
If you want to use LogMeOnce on other devices and PC's make sure you have secure storage mode set to Cloud.
How to check your storage mode
On your desktop, go to https://secure.logmeonce.com/settings or within LogMeOnce
1. Click on Settings and check if the cloud storage mode is set to Cloud. All your usernames and passwords are first encrypted with Military-Grade AES-256 on your computer and then transferred to LogMeOnce secure cloud service. This is ideal for individuals who need to access their credentials from multiple locations (home, office, hotel, etc.), and multiple devices (PC, Mac, iPhone, iPad, Android).
2. Click on Storage Mode
3. Check if says "You are currently using Cloud Mode", if not, please change it to Cloud mode, so your encrypted credential would be available for your other devices.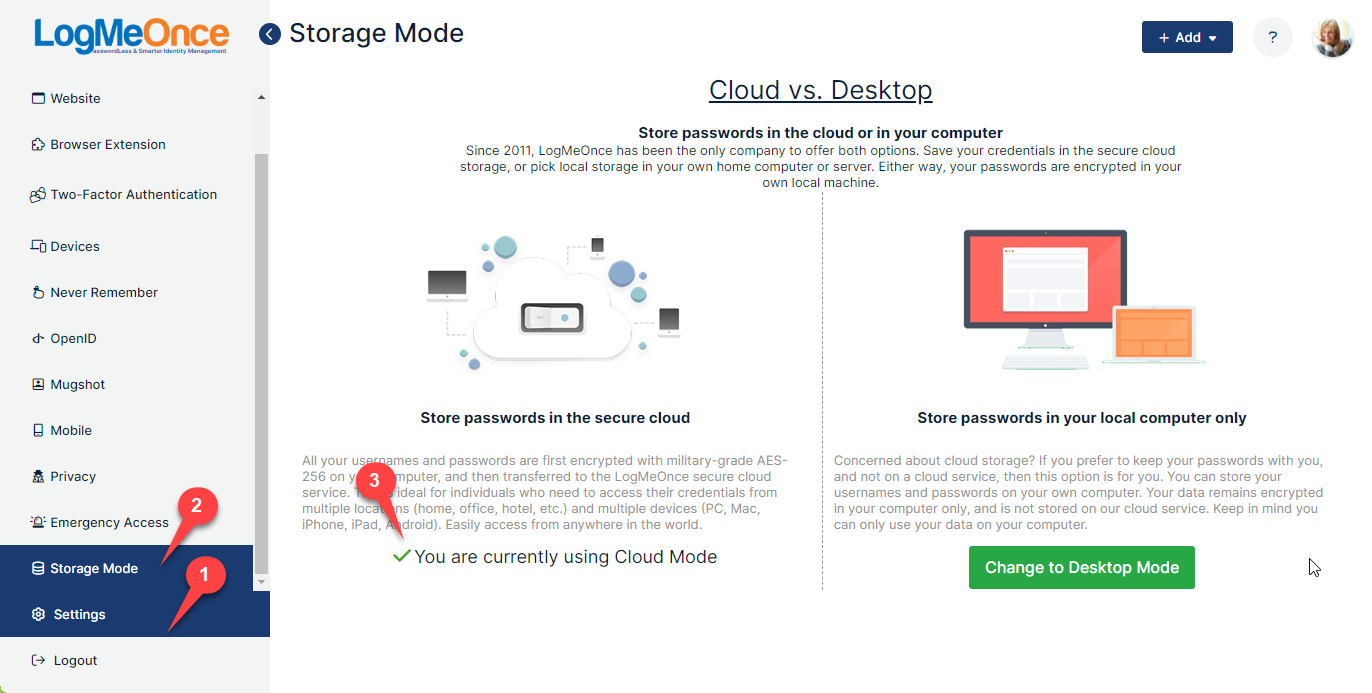 Adding LogMeOnce to other desktop/laptops
Please follow these steps:
1. On your new desktop device, please open your browser.
2. Go to https://secure.logmeonce.com or https://www.logmeonce.com and click on Login button and try to login normally.
3. If the LogMeOnce extension is not installed on your browser, it will detect it and display the following message.

Please click on OK and the extension gets installed and follow the onscreen instruction.
Adding LogMeOnce to other browsers
For adding LogMeOnce to other browsers, please launch the browser and then visit the download page at the following URL and follow instructions to download the browser extension.
Download URL: https://secure.logmeonce.com/download
Adding LogMeOnce to other mobile devices
For adding LogMeOnce to another mobile device, please download the LogMeOnce mobile app from the respective app store and follow the instruction, please allow respective permissions until the screen below to enter your account email.
1. Select your account type personal or Business/Enterprise.
2. Enter your LogMeOnce account email and we will automatically detect and link your account.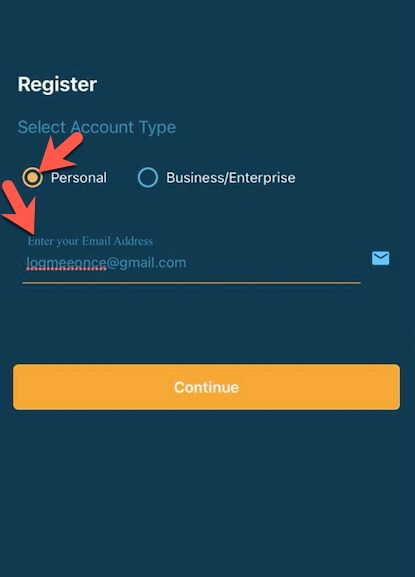 Note: Just keep in mind, whenever you perform any functions such as edit or add apps/sites and other data used in credit cards and secure notes of secure file storage, your information is encrypted locally on your computer and browser and then your encrypted data is either stored locally on your desktop or send to LogMeOnce to store encrypted data.