LogMeOnce password generator enables users to generate strong passwords based on user requests.
Passwords can be generated using:
LogMeOnce Password Generator in Browser extension
LogMeOnce Password Generator in Apps/website field
Please login to your LogMeOnce account on desktop and follow the instruction below to view your password:
1. Click on the LogMeOnce extension icon on the top.
2. Click on the Notification icon.
3. The Notification screen shows a list of all your notifications including generated passwords by the LogMeOnce password generator. This list will be displayed, if the user has not cleared it.
4. To see the password for the selected application, click on the Show button to view the password.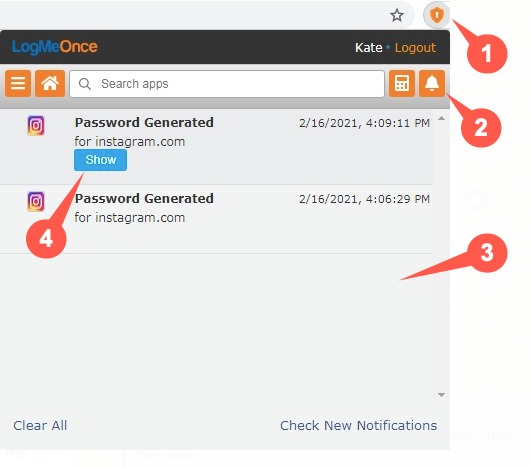 For better security, you are requested to enter your Master Password for With Password Account and Step-up validation for PasswordLess account.
The following are other ways to view your passwords:
Edit each application and view the password
Export all your password to PDF file format
Export all your password to CSV file format