User Management is a core part of the LogMeOnce security platform.
User management enables administrators to manage user access to various company resources such as applications, devices, storage systems, and more. Additionally, User management enables admins to control user access to assets, on-board & off-board users to and from the entire organization's resources.
User Management can be accessed from:
https://<YourLogMeOnceDomain>.logmeonce.com/console/users
or, you may go to Smart Menu - and under the Security section, click on the User Management icon.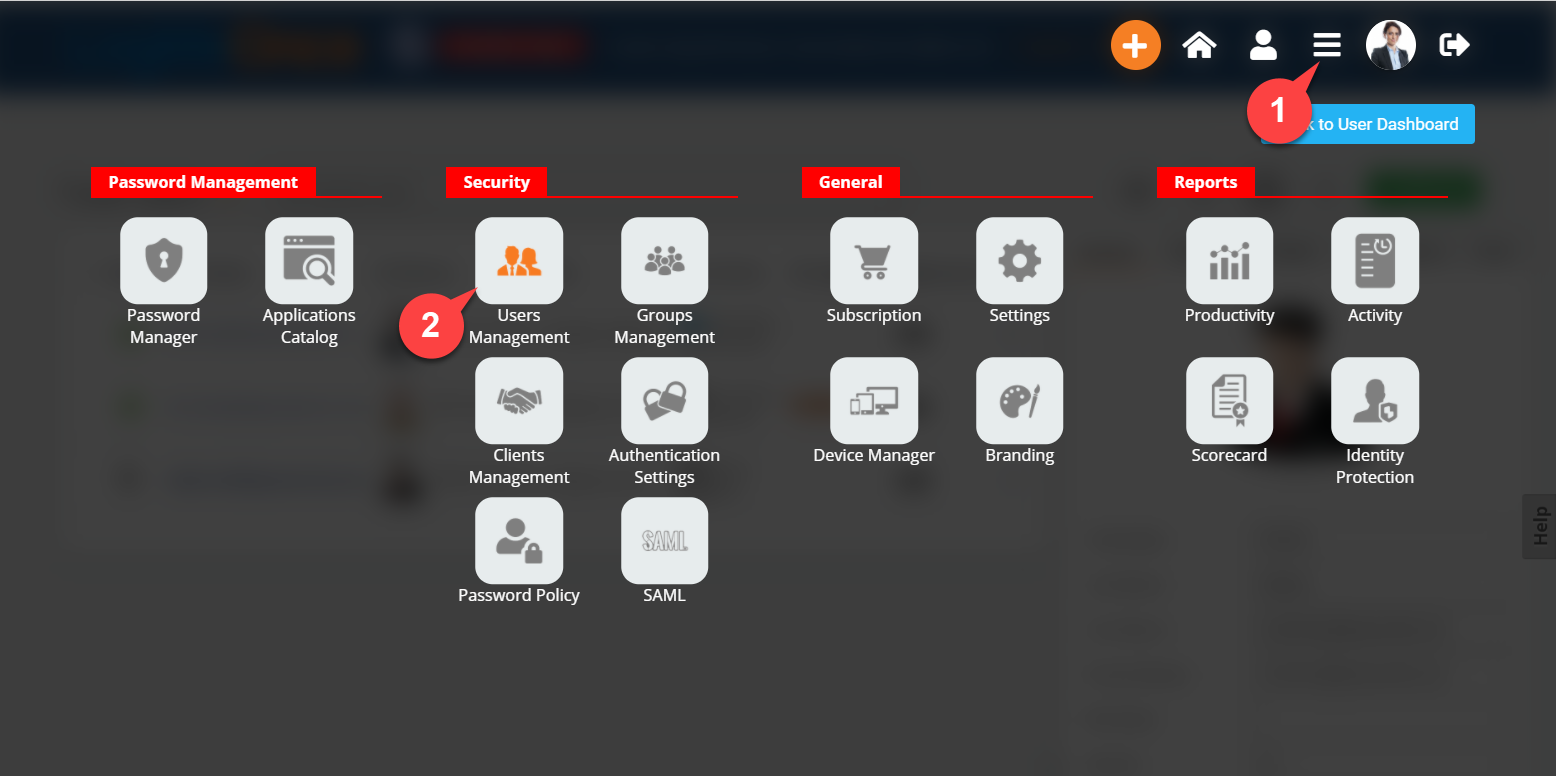 LogMeOnce User Management interface consists of the following areas: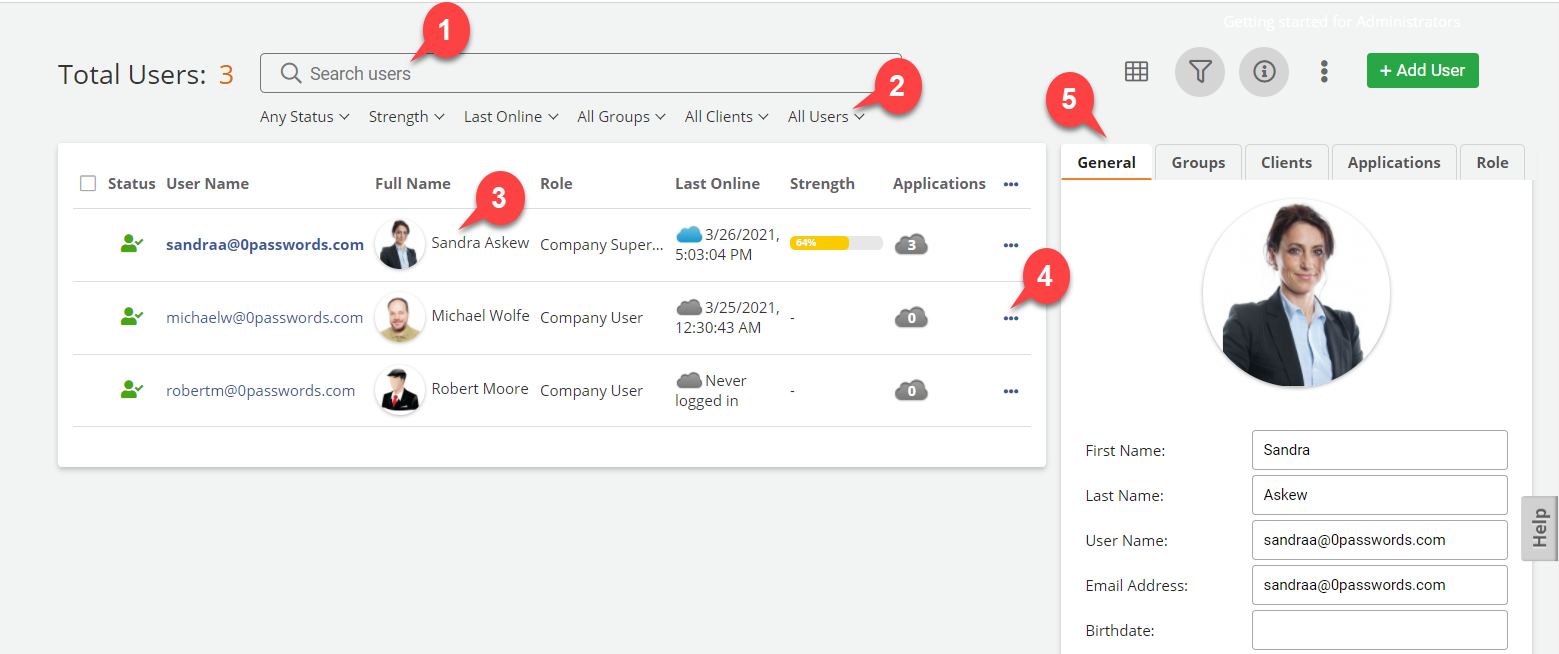 1. Search Bar - You may search for a person in the user list by entering a username in the search window.
2. Filters area enable administrator to sift through users based on User Status, Password Strength, Domain, User Role, Last Online, Group Membership, Client types, and User Types. You may create numerous unique filtered batches by selecting or deselecting individual filters (by selecting or clearing checkboxes).
3. User Listing window displays a list of users based on the user status (whether Active, Inactive, or Pending), User Name, Domain where your organizational users are stored (LogMeOnce Directory or AD domain), Full Name, User Role, Last Online Time, User's Password Strength, and Number of Applications.
4. Actions - Administrators can perform a set of actions on selected users such as Edit, Delete, Activate, Deactivate, Reset User, Reset Authentication Factor, or Reset Account.
Edit: Edit user profile.

Delete: Delete user and all related group and role membership.

Activate: This will activate an inactive user.

Deactivate:
This will deactivate an active user. This will not delete or remove the user. Users would not be able to login into their LogMeOnce account.

Reset User:
This will reset Groups Membership, Assigned Applications, and Roles. This will allow users to log in and have only access to their personal apps. If a user has export privilege, they could export their personal apps.

Reset Authentication Factors:
This will reset a user's previously configured Two-Factor Authentication (2FA) selections and will allow users to set up Authentication Factors again.

Reset Account:
This will clear password and security answers for selected users. It will resend the activation emails for the selected active users.
5. A set of tabs based on your Add-On modules.

Each tab is used to perform a specific user function.
General Information
This tab shows the user profile information, and it displays various fields of personal information. You may also add a user profile picture.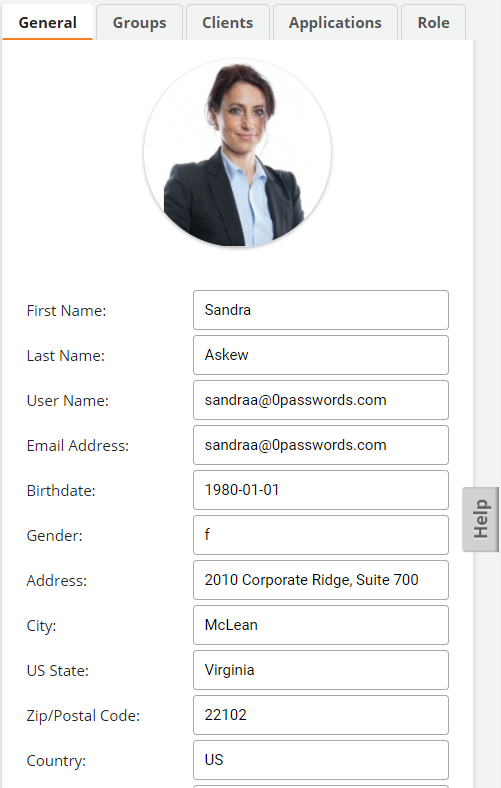 Groups
LogMeOnce Group Membership displays a list of end-users and their association within a particular group(s). You may add/remove groups.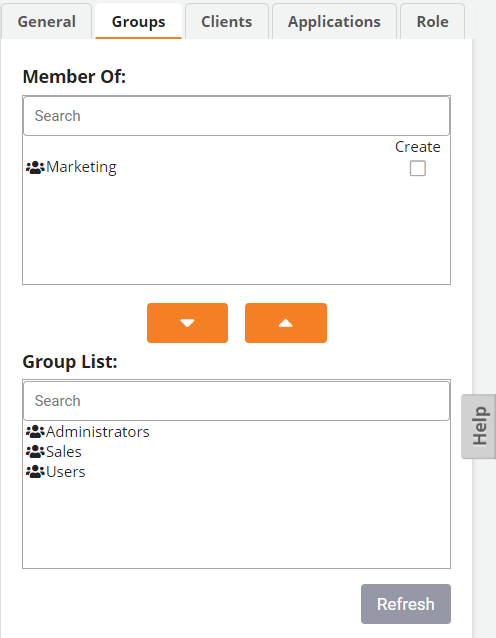 Client Membership
The client tab displays a list of clients that can be accessed by a designated user(s). In this section, you may store client's passwords and documents. This feature is ideal for use by Consultants, Managed Service Providers (MSP), Accounts, and whoever needs to deal with their client's passwords.
Applications
The shows a list of applications that are assigned to a selected user. You can add and remove apps from this screen
.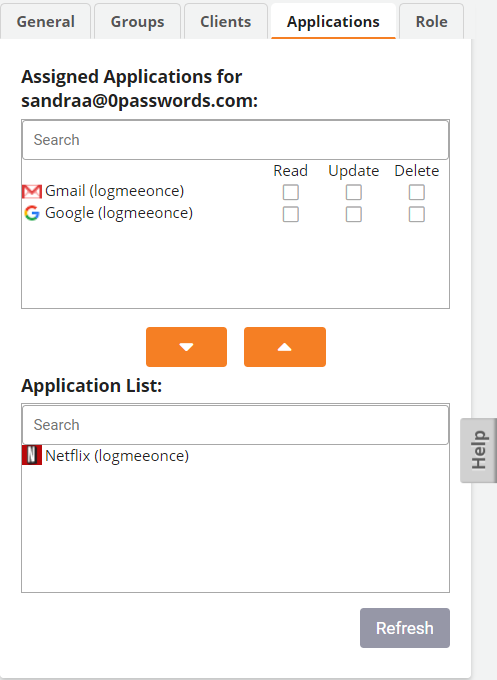 Assignment
Fundamentally, Roles are permissions assigned to an individual or a group to perform a particular task. By default, LogMeOnce offers 3 predefined Roles which give permission to a user/group to conduct tasks.