Introduction
LogMeOnce provides corporate users with centralized and smooth access to all their web applications (i.e. Payroll, web email, benefits, timekeeping, training sites, expense reports) via a user-friendly dashboard.
LogMeOnce Cloud security and IdM solution provide Cloud password management, cloud SSO, user provisioning and cloud data security. We understand that not every application or website account supports standard and secure authentication methods. LogMeOnce provides a unified and strong authentication solution for all your authentication needs whether it is basic authentication, SAML, OpenID, OAuth, etc.
With multi-factor authentication, corporate users can build multiple layers of security to enhance access to their data. Websites and applications that support SAML, OAuth 2.0, Kerberos or other supported protocols can easily get integrated to LogMeOnce quickly. For websites that do not support any of the known authentication standards, LogmMOnce provides additional support to enable them with SSO by injecting user id/password through browser extension (using a secure application installed on their browser).
LogMeOnce adheres to NIST Security standards. For more details please refer to NIST 800-118 Guide for Password Management page for additional information.
LogMeOnce System Architecture Overview
LogMeOnce comprehensive Consumer and Enterprise solutions for identity and access management platform has addressed security management requirements across a wide variety of application systems, operating systems, databases, and directories. LogMeOnce has worked closely with multiple federal and state government agencies, financial and healthcare organization to help them meet their security compliance initiatives with regards to access control, authentication, encryption, system security and identity management. LogMeOnce highly available and scalable security architecture applies comprehensive security controls to manage risk, meet industry best practices and adhere to legal and regulatory standards.
The following diagram provides the overview of LogMeOnce Architecture.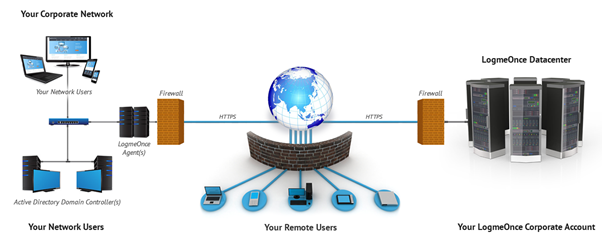 The LogMeOnce solution is protected by IDS/IPS and firewall at multiple levels to protect our network at the data center located within Amazon AWS. The client portion of LogMeOnce is distributed in the form of a browser extension or executable depending on operating platform or mobile devices application.
LogMeOnce Solution Overview
A critical success factor for enterprises is their ability to authenticate and authorize user access rights in a unified, consistent, and effective way. Organizations seek to adopt more advanced authentication features, including strong authentication and risk-based security policies as well as federated identities. LogMeOnce recognizes these challenges and provides the most robust and integrated Enterprise Password Management solution in the industry.
The LogMeOnce solution is fully integrated and deployed in the secure cloud environment. Each component integrates seamlessly and shares common infrastructure such as LDAP, database, and application server, which are fully transparent to the administrators. This allows the secure use of the Web to deliver applications and cloud services to customers, partners, and employees.
The following LogMeOnce solution diagram shows how these components are deployed. It displays the LogMeOnce Cloud Infrastructure, LogMeOnce Integrated Platform Services, your users (employees, customers, partners, and contractors) and your applications and other resources that you would like to protect. Each password and credential can be managed in the Enterprise Password Management solution.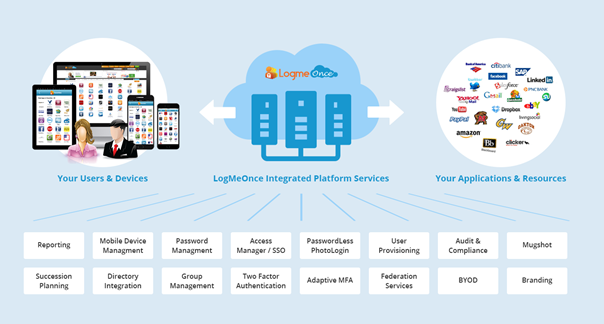 LogMeOnce Supports Industry Standards
Security protocols offer numerous benefits such as added security, ease of authentication, standardization, credential management, and cost reduction while increasing overall user satisfaction with access to business applications and assets to perform their daily tasks.
Each protocol has unique benefits. For example, SAML benefits a diverse group of interoperable standard interfaces. It allows security systems and application software to be developed and evolve independently. In addition, SAML provides a more personalized user experience with platform neutrality, loose coupling of directories, improved online experience for end users, reduced administrative costs for service providers, and risk transference. Another such standard is the One-time password (OTP) which is a password protocol that is valid for only one login session or transaction. OTPs avoid a number of shortcomings that are associated with traditional passwords which are vulnerable to replay attacks.
LogMeOnce provides support for numerous additional security protocols and standards such as SAML, OpenID, OAuth 2.0, Kerberos, X.509 certificate, OTP, HMAC-SHA 512 Hash algorithms, AES-256 Encryption, SSL/TLS, Desktop SSO, and Web SSO.