In this article, you will learn about setting up Google Authenticator / Authy/ FreeOTP /TOTP with Two-Factor Authentication (2FA) for your LogMeOnce account. As you log in to LogMeOnce, you need to enter a one time password (OTP) displayed in your Google Authenticator app.
Before setting up this feature, install the Google Authenticator mobile app.
Click on the Two-Factor Authentication icon.
You will see a comprehensive list of available 2FA options:
Select Google Authenticator.
Go to Google Authenticator App and Select '+' and scan camera.
Scan QR code with your phone.
Enter one time code, and click Verify. Then save changes.
Exit from LogMeOnce to try logging back in.
Every time you successfully log in, you can select your 2FA method for the login session.
Upon selection of Google Authenticator, enter the OTP displayed and validate this login session by clicking Allow.
If at any time you do not have access to your phone, you can disable 2FA.
Steps to follow to setup the following;
Google Authenticator
Authy
FreeOTP
Other TOTP Devices
1. Go to Smart Menu and Two Factor Authentication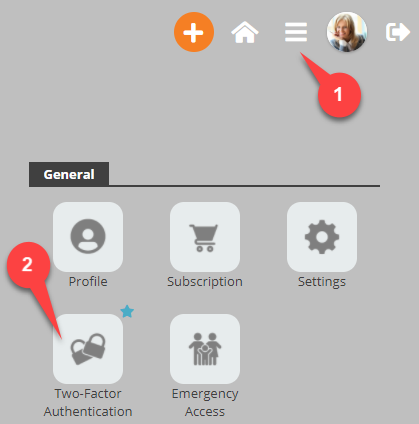 2. Enable Google Authenticator / TOTP

3. Enable it and follow the instruction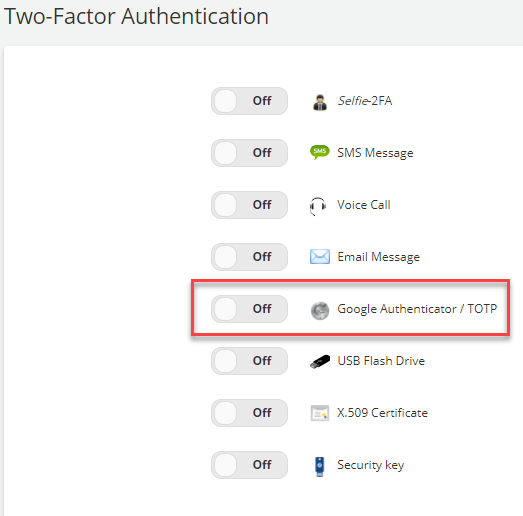 4. Select "Google Authenticator"